Station was founded on a simple premise: there are new ways to mobilize a group of strangers to do cool things on the Internet.
Armed with god-like technologies such as generative AI and crypto, our collective ability to create, interpret, and monetize information has increased by orders of magnitude. However, the gained productivity doesn't always translate into the most aligned outcomes for creators, participants, and users of Internet products.
We believe a better way is possible.
GroupOS is modular toolkit powering digital collectives to own, govern, reward, and grow their networks.


GroupOS is comprised of four core building blocks: Members, Vault, Tokens, and Insights. Each building block can be use independently as its own tool, but the combination is greater than the sum of the parts.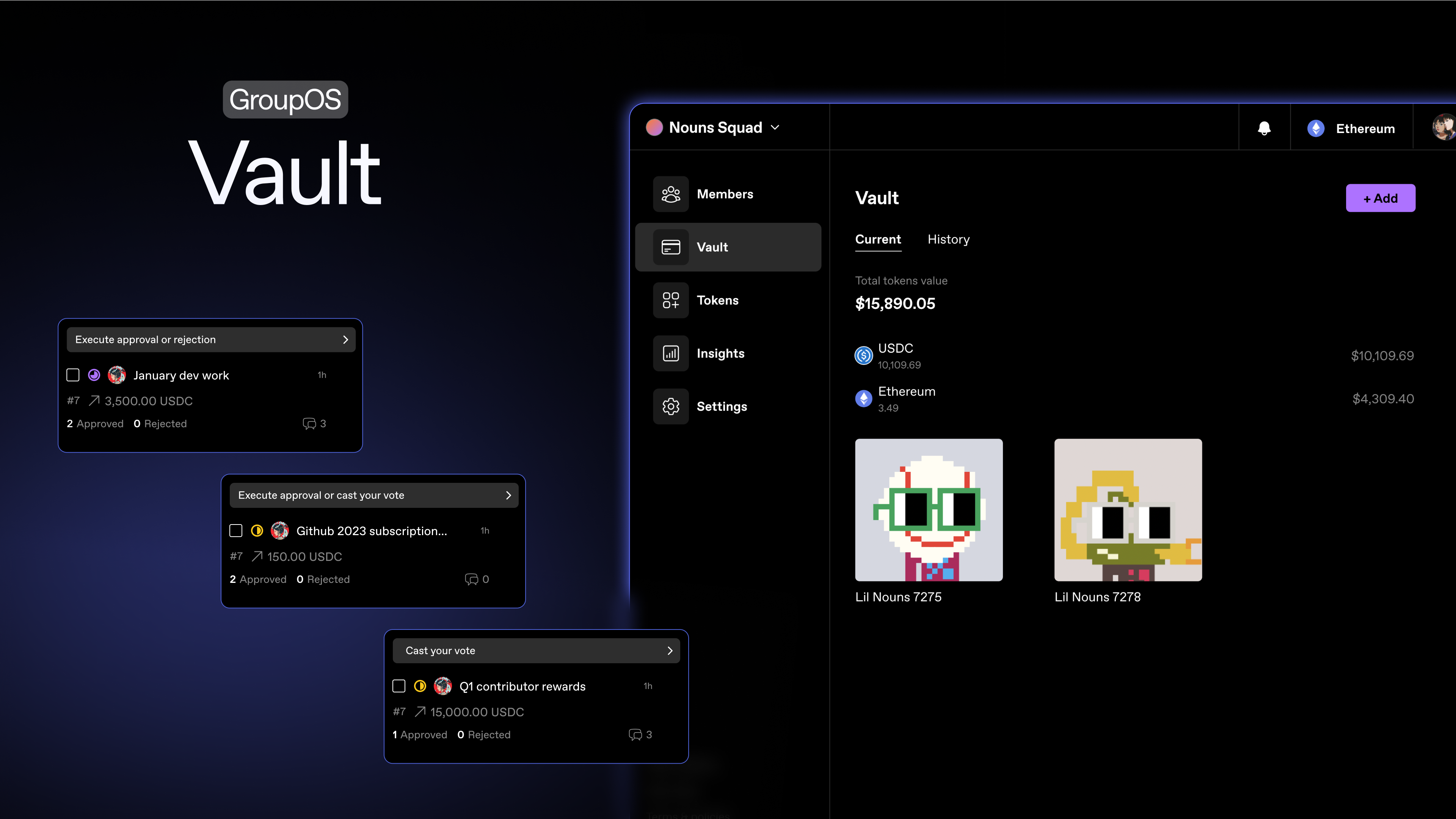 Members

Collectives can curate members, track contributions and reputation, and engage stakeholders through evolving onchain accounts.

Vault

Vaults manage collectively owned assets with multi-signature. Members can create, manage, and distribute assets via proposals and make decisions with on-chain roles and reputation.
Tokens

Tokens automate the rules and logic for value exchange and accrual in a network — ranging from in-game currencies to loyalty points.
Insights

By aggregating and orchestrating offchain and onchain data, we surface insights beyond just movements of tokens and wallets, but how the collective drives metrics that matter.
We're still early in exploring the use cases of GroupOS. Our customers and users range from decentralized protocols to cyber activist groups to MMORPG games.

Beyond the immediate application for collective coordination and incentive distribution, we're envisioning new forms of digital collectives to emerge.



If any of the below sounds like your community, protocol, organization — or one you want to build, we'd like to have a conversation:

︎︎︎ Looking to create an interoperable reputation and membership system to identify and incentivize high-quality participants
︎︎︎ Looking to incentivize and engage with community members to participate in building the network
︎︎︎ Looking to decentralize ownership and governance power to members in the network (can be both humans and machines!)
︎︎︎ Looking to create and own portable network graphs for your users, audiences, and customers
Some ideas to get the creative juices flowing.
Membership clubs with on-chain reputation and rewards systems.

Decentralized media publications incentivizing quality content creation.

Cyber-activist groups coordinating collective actions and campaigns.

Service guilds facilitating collaboration and fair compensation.

Online gaming communities with interoperable in-game currencies and rewards.

Decentralized music platforms empowering artists with ownership and royalties.

Social impact networks rewarding contributors to charitable causes.

Education platforms incentivizing knowledge sharing and collaboration.

Freelancer communities with reputation-based project assignments.

Podcasting networks with token-based listener engagement rewards.

E-commerce platforms with community-driven product curation and rewards.

Writing communities with reputation-based publishing opportunities.

Sustainable energy networks with tokenized rewards for energy conservation.

Intellectual property marketplaces connecting inventors and investors.

Decentralized marketplaces with reputation-based seller ratings.

Research networks incentivizing collaboration and sharing of findings.

Developer communities with rewards for open-source contributions.

DAOs with decentralized governance and reputation-based decision-making.

Fan communities rewarding dedicated supporters with exclusive perks.

Hackathon platforms incentivizing innovative solutions and collaboration.

Knowledge-sharing platforms with reputation-based expert networks.

Professional networking communities with reputation-driven referrals.

Open-source software projects with token-based bug bounties.

Content creator communities with tokenized rewards for engagement.

Virtual event platforms rewarding active participants with tokens.

Social media platforms with user-driven content moderation and rewards.

Artist collectives funding and distributing digital artworks as NFTs.

Health and wellness communities incentivizing healthy habits and lifestyle choices.

Professional certification platforms with verifiable on-chain records.

Citizen journalism networks rewarding accurate and verified news reporting.

Language learning platforms with tokenized language proficiency assessments.

Co-working spaces with token-based access and rewards for collaboration.

Sports fan communities with tokenized rewards for fan engagement.

Tourism communities with token-based incentives for local recommendations.

Transportation networks with tokenized rewards for carpooling or ridesharing.

Crowdsourcing platforms with tokenized rewards for valuable contributions.

Civic engagement networks rewarding active participation in local governance.

Charity networks with transparent token-based donation tracking.

Virtual mentorship programs with reputation-based matching and rewards.

Legal communities with reputation-based referrals for legal services.

Humanitarian aid networks with transparent token-based distribution.

Supply chain networks with traceable product origins and rewards for sustainability.